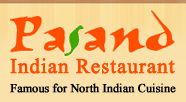 Our artistic chef uses the ancient, traditional cuisine of India to create richly-flavored, aromatic and healthfully cooked dishes. Visit Pasand for a culinary voyage and discover both the exotic flavor of India and the hospitality of its people.

Quality Ingredients + Award Winning Chefs + Quality Service
= Pasand's Award Winning Dining Experience
We offer a richly-varied and ever-changing à la carte menu of fresh, natural ingredients, wholesome sauces, curry and flavorful spices paired with selections from an extensive and carefully assembled wine and beer collection.
"One of the best restaurants in Thailand."
- Thailand Tatler
Magazine
"Top 5 Indian Restaurants."
- Metro Magazine
Top Winner at the International Food and Hospitality Show
Winner of Her Royal Highness Princess Award